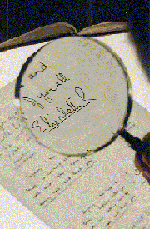 Handwriting Analysis Charges
Basic, Individual Script the charge is £50.00 ($84.50)
Indepth, Advanced Script analysis £100 ($168)
Compatibilty Report for business partnerships or marriage and their possible difficulties £250 ($422)
Employee Reports - this depends on requirements (ie the complexity & number) and will be agreed with the client.
What I require
Where to send the scripts
David Bennett,
25 Lyndhurst Court,
Lyndhurst Road,
Hove BN3 6FZ
England
For all analyses, I will need original scripts, but photocopies will do. Ideally I need 2 A4 sheets plain, unlined paper of original handwriting for the indepth analysis. However I can work with less if necessary. The handwriting should be done in the same sitting. Unfortunately, I cannot take scanned scripts because this affects the size of the writing.
What you receive
Basic Analysis: I use a form recognised by the IGA which highlights the main personality traits. From these I provide comments.
Indepth Analysis: I provide 400 words. Click here if you want to see a sample analysis.
Compatibility Report: I provide a 400 word analysis on both parties. From that I provide a compatibility report highlighting areas of common ground and potential problem areas between the parties.
Employee Reports: I provide a 400 word analysis on however many candidates are required. The length of the analysis can be tailored to requirements. From that I can give a recommendation as to the most suitable candidate for the post without having to know or meet them.. I will need from the client a copy of the job specification, an idea of the sort of person they are looking for.
"My wife and I found your lectures very interesting"
Cllr Bruce Mackie OBE DL JP, M/V Funchal Passenger
Please note: For all analyses, it is helpful to know the age and sex of the writer and also whether they are left or right handed writers
How to pay
Please send cheques with the samples of writing.
I do not start work until I have received the client's cheque; as with all monies received via cheque I offer a full satisfaction guarantee the client's money is refunded.
Back to top